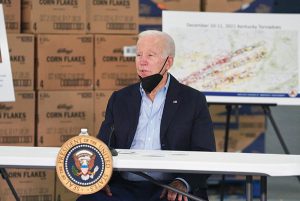 Bloomberg
President Joe Biden will send 500 million free coronavirus tests to Americans' homes beginning next month and dispatch the military to shore up overwhelmed hospitals as the US confronts a resurgent pandemic.
Biden will announce new measures to try to curb the virus, the day after the CDC said the omicron variant first identified in southern Africa now accounts for most new US cases. He aims to boost testing, hospital care and vaccinations without any new lockdowns or closings.
He'll also deliver a stark warning to the unvaccinated, a senior administration official said, telling them that they risk serious disease or death while assuring Americans who've gotten their shots that they can safely gather with their families over the holidays.
In the speech, the president will again seek to reassure Americans that his administration can combat yet another resurgence of the virus, the second of his presidency.
But he confronts a perception that the government was caught flat-footed as cases began to mount earlier this month and Americans began complaining that test kits, crucial to control transmission, had become scarce.
Vice President Kamala Harris told the Los Angeles Times that the administration was caught off guard by the emergence of the omicron variant of the virus, which has now been identified in most states.
Biden's strategy continues to depend on encouraging vaccinations, even as new infections stress the nation's health-care system and Americans find tests in short supply and see their schools closing in response to the surge.